Leadership Development and Coaching
Building trust and safety, towards greater cohesion, and productivity, through leadership development and coaching.
A Single Step's Director, Chris Pye, has spent thirty years working in and alongside the Helping Professions, which has shaped his approach to supporting leadership development. He combines his knowledge of these sectors with expertise in group facilitation, leadership coaching, and Applied Theatre techniques, to create powerful learning and development opportunities, informed by A Single Step's core values
At the heart of every productive and thriving workplace are solid relationships and safe, inclusive leadership
But when these are interrupted, the team can feel unstable and uncertain, resulting in:
Supporting you to grow a cohesive and productive workforce is our speciality. Read on to find out how we do it.
Leadership Development and Coaching
Boards of Directors and Executive Leadership Teams the world over are increasingly recognising the power of a Leadership Development focus, including Team and Individual Leadership Coaching.
At A Single Step we walk alongside you, delivering an integrated process that takes your team or organisation from surviving to thriving over a few short months. This infographic illustrates the key elements of our evidence-based process, which are described below.
Because we work primarily with the Helping Professions, we understand the prevalence of trauma and stress in the lives of both clients and workers in this sector. We employ a Trauma-Informed Care approach to every project we facilitate.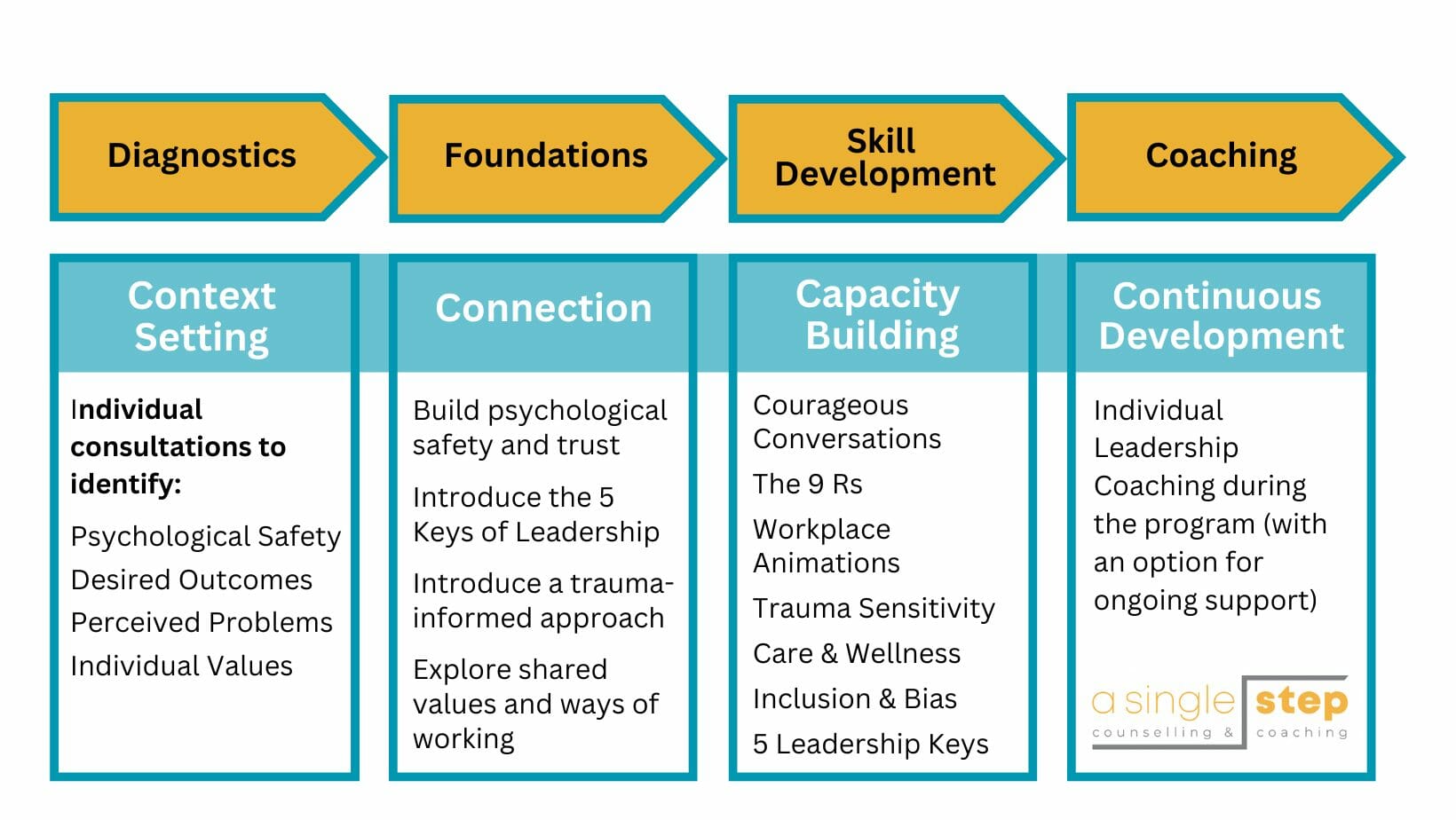 First we connect with your individual team members to understand what is working, what is not, and where you want to go.
Diagnostic assessment early on will help form a baseline for the formative and summative evaluations that follow, helping chart the efficacy of the process.
An initial full-day 'Foundations' workshop will bring participants together, offsite, to connect in new ways and begin identifying pathways towards greater trust and cohesion.
We will support participants to reconnect with one another, to support the development of collaboration and shared ownership.
Informed by the initial 'context' consultations and conversations in the Foundations workshop, a series of skill-building workshops are facilitated, informed by the interpersonal skills the participants wish to collectively develop. Topics can be selected from our most popular content areas, below, and tailored to the needs of your specific team. For full details of the 7 core content areas, see the tabs below.
Team and individual coaching during the course of the program, and optionally beyond, will support the application and sustainable integration of the Leadership Development learnings.
Our Team and Individual Coaching sessions will help team members explore issues and themes that relate to the collective team experience, as well as their own individual growth and development. 
The role of a Team and individual Coach is to ask the right questions to help participants focus on what is important, understand what is helping and hindering their performance, and build cohesion, towards greater harmony and productivity.
The sections below describe the 7 core areas of content for the interpersonal skill-building workshops. A number of these workshops is included within the integrated Leadership Development program, but they can also be delivered as stand-alone programs for your team or organisation. 
The 7 content areas of our workshops
For further support in building trust, cohesion, and productivity in your team, check out our current blog highlight.
Initiating difficult conversations with colleagues or direct reports may feel daunting. By utilising the following simple but powerful tools, you can build a team culture in which open, honest feedback becomes business as usual, towards greater performance and productivity.
Leadership Development Enquiry
Please fill in the form below and we'll be in touch as soon as possible.